Jennifer L Meyer
Inks & Digital Art
Greetings!
******
Illustrator for Lily to the Rescue, Biggest Little Farm: Saving Emma the Pig, Calpurnia Tate: Girl Vet, Cleo Edison Oliver, If I Could Give You Christmas, A Little Owl, Star Wars Adventures: Chewbacca and the Slavers of the Shadowlands, Mother's Prayer, Garden Witch's Herbal.

Select Clients: Disney, Fisher Price, Little Brown & Company, Dark Horse Comics, Tor, Macmillan, IDW, Scholastic, Square Fish, Harper Festival Books

My artwork has won two awards from Society of Illustrators West and been featured several times in Spectrum: The Best in Contemporary Fantastic Art.

Only Rep'd by: Shannon Associates
copyright JLMeyer and appropriate companies (Disney, Macmillian, Tor, etc..) Write for use.
---
A Picture Book by John Chester
Saving Emma the Pig

See The Biggest Little Farm!
---
A Picture book by Lynn Plourde
If I Could give you Christmas
---
A Picture Book
by Linda K. Burton : Mother's Prayer

set in 1875 Copenhagen Denmark
---
---
A Graphic Novel
Star Wars Adventures: Chewbacca and the slavers of the Shadowlands
---
Comic Short I designed based on the fox and the crow in Fable Comics (anthology) by First Second books.
---
Comic Short retelling of Puss in Boots for Jim Henson's Storyteller.
---
---
Twilight Sparkle for the Magic the Gathering card by Wotc.

Part of the Ponies the Galloping set for charity with Extra Life.
---
The 2 person card game: The Fox in the Forest.
---
---
---
Personal Projects
Attack at Mushroom Pass: The Bunny General.

Write me or my agent about publishing this.
---
Sign up for new release and store updates
copyright J L Meyer and appropriate companies (Disney, Macmillian, Tor, etc..) Write for use.
Greetings Bunny Fans!!
I'm a freelance illustrator living in the US south
(occasionally bunnies, birds, and frogs come by to say hi! =)
Where can I buy your stuff
I have 3 places with my prints, rare originals, and books online: My store, a store for MTG, and a on demand printer for books.
What media do you work in? How big are your originals?


Pencil: mechanical pencil. Sizes : 0.3, 0.5, and a 1.1. With Pentel or Kuru Toga leads at 2B and B. Going to try Neox Graphite. Generally on the look out for a smooth dark line. Always love the Kuru Toga mechanical pencils.


Ink: I work with Copic Multiliner SP 0.05, 0.03 and 0.1. I also use a white gel pen, the Uniball signo.


Color : for my book illustrations, I use Photoshop with a Cintiq. I do the drawings by hand then scan them to paint digitally. My online color sketches (seen on Twitter and Instagram) are usually done in copic marker and pens ( copic sp multiliner or Faber Castell size F)


Size : I usually work small, many of my online sketches are done in a 5x7 hardbound sketchbook. The White Rabbit shown is about 3 inches tall. Most of my client work is done to size. I work bigger on covers and things that need to look tighter when finished.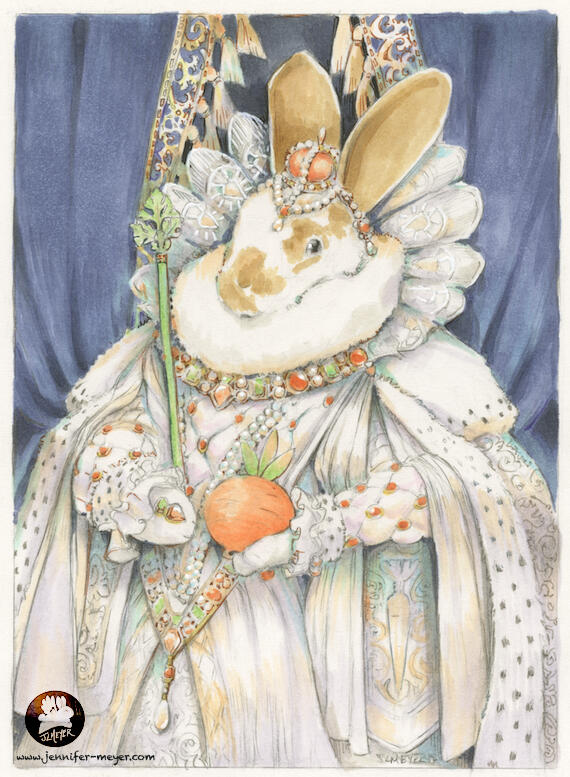 For the White Rabbit, I colored the lines brown in Photoshop then set it to multiply and painted under the lines
How to balance achieving traditional look with digital media?


My most flexible suggestion is to recognize signs of digital painting and what parts of traditional painting you would like in your art (ex: texture is AWESOME but if you use the same texture flawlessly everywhere it looks digital).
What I do: I like combining something handmade with digital. And for digital I tend to use looser brushes (can give a watercolor look)
Is there a reason you enjoy drawing rabbits so much? They're adorable, and I'm wondering if there's some significance behind them.
Who are your biggest influences?
Alphonse Mucha

Waterhouse

T. S. Sullivant

Kawase Hasui

Classic National Park Posters

Frederic Church
Do you have any pets? If so, I hope you will include their picture(s)!
I have fish friends! Two tanks, this is my studio tank, there are 4 fish but they all like to hide (you can barley see them on the right, the 4th fish is yellow =)
The second tank now has a new friend!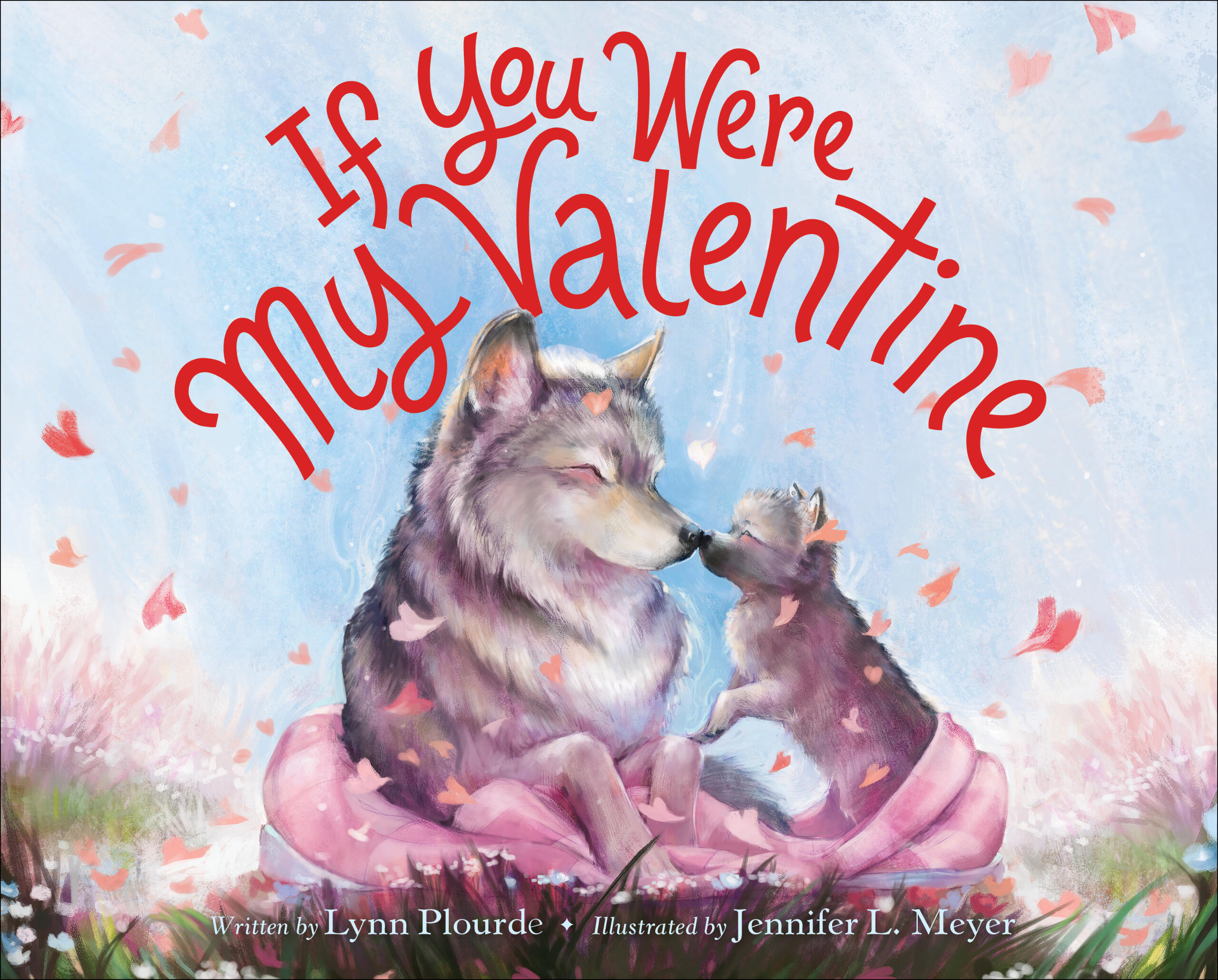 What books have you worked on?
I have Illustrated 21 books and contributed to several comics.
If I Could Give You Christmas by Lynn Plourde (PB)

Saving Emma the Pig by John Chester (PB)

Mother's Prayer by Linda K. Burton (PB)

A Little Owl (BB)

Star Wars Adventures: Chewbacca and the slavers of the shadowlands (GN)
Lily to the Rescue (4 books)*

Calpurnia Tate: Girl Vet (5 books)*

Cleo Edison Oliver (2 books)

Bella Sara (4 Books)

Garden Witch's Herbal (botanical book)
(PB) Picture Book (BB) Board Book (GN) Graphic Novel
*I illustrated the interiors, not the covers, of these books.
What comic books have you worked on?
You can find my work in:


Pimento in Bandette Vol 1,
Puss in Boots in Jim Henson's Storyteller,
Plants vs Zombies: Bully for You,
and
Fox & Crow in Fable Comics by First Second books.
What covers have you done for My Little Pony?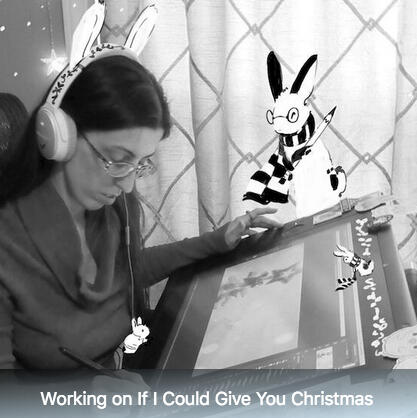 Ive been delighted for the chance to do 9 covers for My Little Pony, the wonderful people at MLP Merch have been keeping track of numbers if you need info to fill out your collection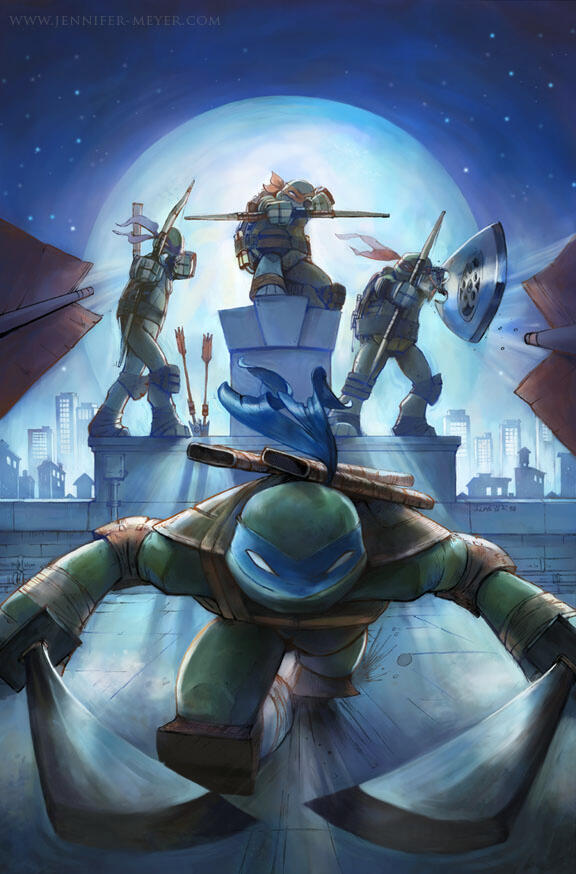 What work have you done on TMNT?
I was thrilled to do 2 covers for Teenage Mutant Ninja Turtle comics!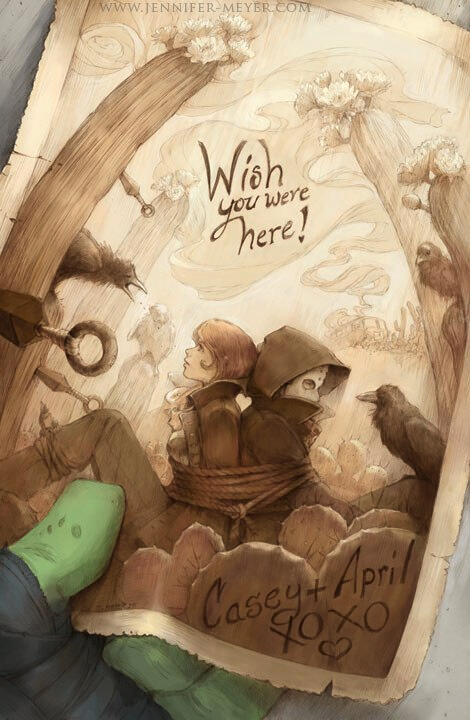 Keep wondering where you studied/learned to do what you do?!
I went to School of the Visual Arts in Savannah GA and New York. Also I have taken classes at CG Master Academy online. I am a believer that you should always keep learning.
copyright Jennifer L Meyer and appropriate companies (Disney, Macmillian, Tor, etc..) Write for use. Chickens are quick studies, photo referenced from Apricot Lane Farms.