---
About Me
Award winning illustrator creating dream like art.Creating ethereal & majestic pieces with a focus on animals, fantasy, and storytelling. And I adore the chance to paint I.P. that I am a giant fan of.My Kryptonite: Ghost/Vampire stories & anime.
I can be contacted at artist(at)jennifer-meyer.com
CLIENTS HAVE INCLUDEDDisney, Fisher Price, Dark Horse Comics,
IDW, Macmillian, Scholastic, TOR
Little Brown Young Readers, WOTC, First Second BooksProjects have included:
Co-Created Fight-Bunny
Adapted How Deep is Your Love to a picture book and Fox & the Crow to a comic.Jim Henson's Storyteller Graphic Novel, Bella Sara Cards & Books, Picture book Saving Emma the Pig, Duel Master Cards, MLP/MTG Twilight card, card art for Fox in the Forest, Graphic Novel Star Wars Adventures: Chewbacca
BFA in Illustration from SVA, Illustrated 20+ books, Winner of 2 awards from Society of Illustrator West, Accepted into SOIW 60, 59, 53, 52, and appeared in Spectrum of Fantastic Art 19-24
Sign up for pre-order print drop, new release, & update notification. The updates are short and not often.
I use Tinyletter to collect emails for my newsletter. By using the form, you acknowledge that the information you provided will be transferred to Tinyletter for processing in accordance with their TOS. Info on TOS is here and their privacy policy.
I was beyond thrilled to have the chance to do 3 covers for Space Usagi: Death and Honor. They were inspired by the title. The Moon Bunnies are the Space inspired cover.
---
A companion picture book to the award-winning film, "The Biggest Little Farm"!When Emma the pig arrives at the Apricot Lane Farm, she is about to give birth to piglets. But she is also sick, and after her seventeen babies arrive, Emma is unable to care for them.Taking care of seventeen piglets and a sick mama pig is a challenge for Farmer John and his team. But the cure for Emma reminds them what is most important—for pigs and for humans: love and friendship.
---
Valentine's Day is for cuddles, sweet treats, silly games, and spending time with the ones we hold dear. Join all kinds of animals and their valentines—from rabbits and puffins, to cougars and otters, to a bigger-than-big whale—in this cozy picture book celebration of love.
---
This sweet story about animal parents and children reminds readers of the best part of Christmas—sharing beautiful songs, special stories, fun games, and favorite treats with the ones we love most, big and small.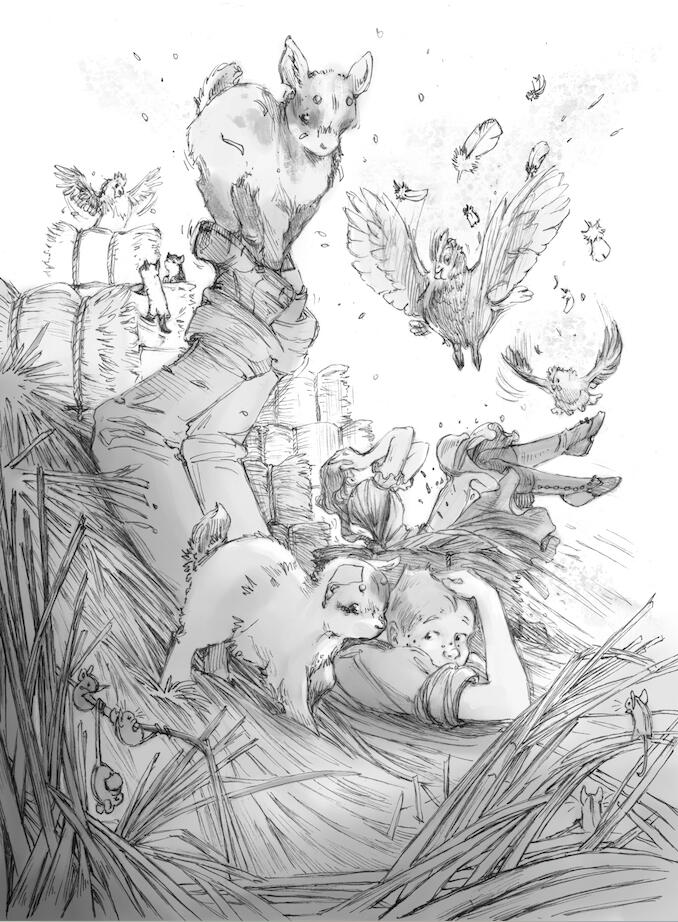 ---
Calpurnia Tate: Girl Vet Books 1-6
From Newbery honor author Jacqueline Kelly comes Skunked!, a new illustrated chapter book series for younger readers featuring the beloved characters from The Evolution of Calpurnia Tate.
---
Lily to the Rescue Books 1-4A 2020 National Parenting Product Awards (NAPPA) Winner!
An irresistible chapter book series from the New York Times bestselling author of A Dog's Purpose Puppy Tales featuring Lily, a rescue dog who rescues other animals!
---
Journey back nearly two hundred years before the events in A New Hope as Chewbacca relates a story from his youth on Kashyyyk. Determined to prove themselves eligible for the rites of adulthood, Chewie and his young friends venture into the perilous Shadowlands in search of adventure. But they find far more than they bargained for when they stumble upon slavers plotting a raid on the Wookiee village.
---
I illustrated 4 books for Bella Sara.
Left first and last black and white are from Coral with the other three from Amia.Covers are pencil with digital paint and interiors are hand drawn pencils with digital washes.
---
CLIENTS HAVE INCLUDEDDisney, Fisher Price, Dark Horse Comics,
IDW, Macmillian, Scholastic, TOR
Little Brown Young Readers, WOTC, First Second BooksProjects have included:
Many cards for Bella Sara, Fox in the Forest card game, 2 cards for Duel Masters, 1 card for MLP/ MTG,
TMNT, My Little Pony, Usagi Yojimbo, Maleficent, Wild Blue Yonder, comic coversillustrated story shorts for Ladybug magazine.
Disclosure: I am an affiliate of Bookshop.org where your purchases support local bookstores. I will earn a commission if you click through and make a purchase. I appreciate your support of the books, independent book stores and me, Thank you so much!
---
WEBSITE TERMS OF USE
________________________________________________________Last Updated Sept 30, 2023.
Thank you for visiting our Company's website ("Website"). We hope you find what you are looking for and enjoy our website content, which has been thoughtfully crafted for users like you.Please review these Terms of Use very carefully. By accessing our Website, you are agreeing to these and are expressing that you have been given reasonable access to review these Terms prior to your continued use of our Website. This Agreement is binding as of the date you access our Website.________________________________________________________
General Purpose.
These Terms of Use ("Terms," or "Agreement") that You, the Website user, are entering with Jennifer L Meyer("Company," "we," "us," "our") govern how you may access and use our Website. The Company and You will collectively be referred to as "Parties," and each individually as a "Party."
By accessing our Website, you are agreeing to these Terms and our Privacy Policy, accessed here www.jennifer-meyer.com, which is hereby incorporated by reference. If you do not wish to agree to these Terms and our Privacy Policy or are not legally able to form a binding contract, you must immediately quit using our Website.Age Limitations.
Our Website is offered to users who are at least 13 years old. If you are not at least 13 years old, you are not allowed to use our Website. By continuing to use our Website you are representing that you meet the minimum age requirements to form a binding contract in your jurisdiction.Changing Terms.
We reserve the right to update and revise these Terms at any time without notice to you. The date that these Terms were last updated is noted on the top of this Agreement. Your continued use of the Website after we have updated these Terms indicates your acceptance and agreement to the changes.Website Changes + Access.
As our Company evolves, our Website and its contents will change with it. We reserve the right to delete, withdraw, or edit this Website (and any service or material we provide on the Website) however we see fit, at any time, and without notice. We are not liable to you if the Website or any part of it is unavailable. For example, this may happen when our Website is undergoing an "under construction" phase where we need to make edits, changes, or amendments. Thank you for understanding.
If you are prompted to provide registration information or other details to access the website or any part of it, you are warranting that the information you provide is correct. Further, you agree that any information you provide to us is correct.Privacy.
We respect your privacy and are committed to protecting it. We may use certain information that we collect from you to operate our Company and/or our Website. Please review our Privacy Policy to understand the types of data we collect from you and your devices ("Data") in connection with your use of our Website and how we use your Data. By continuing to use our Website you are expressing that you agree with how we collect and use your Data as set out in these Terms and our Privacy Policy.
Protection of Personal Information. If you choose, or are provided with, a username, password, or any other piece of information as part of our security procedures, you must treat such information as confidential, and you must not disclose it to any other person or entity.
You also acknowledge that your account is personal to you and agree not to provide any other person with access to this Website or portions of it using your username, password, or other security information. We recommend keeping your login credentials and account information private so no other users are able to access it.
You agree to notify us immediately of any unauthorized access to or use of your username or password or any other breach of security. You also agree to ensure that you exit from your account at the end of each session.
You should use particular caution when accessing your account from a public or shared computer so that others are not able to view or record your password or other personal information. If you decide to log into your account on a public or shared computer, make sure to log out after your viewing session to help protect your information.
We have the right to disable any username, password, or other identifier, whether chosen by you or provided by us, at any time [in our sole discretion for any or no reason, including] if, in our opinion, you have violated any provision of these Terms of Use.Intellectual Property.
We enjoy sharing and creating valuable content on our Website for all our users to engage with and enjoy. However, in making this content publicly available, we still hold ALL of the Intellectual Property Rights to the work. Meaning, all intellectual property rights including, but not limited to trademarks, copyrighted material, trade secrets, and other proprietary information are owned by the Company and its designees. The Company has the sole exclusive right to reproduce, share and create derivative works from this intellectual property.
You understand and agree that you are only allowed to access the Website and our content for your personal, non-commercial use.
We understand and agree that your computer may incidentally and automatically store copies of our content and website for ease of accessing those materials. However, you are not allowed to reproduce, modify, or share the material contained on or downloaded from our Website.
You may not use the Company's trademarks including, but not limited to, brand names, logo marks, service marks, designs, and slogans, without written permission from the Company.Linking to Website + Social Media.
Thank you for your interest in linking to our Website and/or social media accounts. Before you place a link on your website or another platform, please adhere to these guidelines to ensure our reputation is left intact.
If you are linking to our Website as a credited source for an article, blog or press, you must include a link to our Website in the cited material. However, no information or content from our Website should be copied in its entirety without express written permission from the Company.
All links to our Website must establish that you do not have any association or endorsement from the Company (absent a separate affiliate, influencer, or other written agreement).
Further, you should only link to our Website on a site or social media account that is owned by you and complies with the content guidelines in this Agreement. You agree to immediately remove any and all links at the Company's request.Restricted Uses.
To aid in keeping our Website more safe and secure for all its users, we have curated a list of prohibited uses of our Website. Please abide by these restrictions when navigating, browsing, or using our Website in any way. Our Website should only be accessed and used for lawful purposes according to these Terms.You are not allowed to use the Website:
In violation of any State, Federal or International Laws.
For any discriminatory purpose.
For any purpose in violation of our User Content provision in the Terms, incorporated by reference herein.
For any spoofing, spamming, or impersonating the Company purposes.
To transmit or distribute spam email or messaging.Further, you may not:
Implement or use any spider, crawler, scraping, bots, or other automated processes to access the Website for any purpose.
Interfere with the Website's operation in any way including, but not limited to, the use of viruses, malicious codes, attacks or programs.
Bypass or hack authentication processes or gain any unauthorized access to the Website.User Submissions. From time to time, our Website may contain features which enable you to submit or post content and material to the Website and/or submit directly to the Company. We prioritize the safety and environment of our Website and require that all your submissions comply with this Agreement.
All user submissions are non-confidential. You relinquish to the Company all proprietary rights in the same upon submission. You understand and agree that anything you submit or post through our Website grants the Company and our designees the right to use such material in any capacity for any purpose.
You understand and agree that you are solely responsible and liable for any submissions you make. The Company will not be held liable in any way for your submissions or posts.Consent to Use.
By submitting reviews, images, comments, testimonials, or tags to us on any platform including, but not limited to social media and online reviews, you are by default granting us a commercial license and voluntarily releasing us to use your submissions for any reasonable future business use. In doing so, we may use your name and/or photo along with any other publicly acknowledged information that has been revealed by you when referring to your submissions on our Website, marketing materials, guides, and any other platform not expressed in this agreement.Monitoring + Enforcement.
We value all user submissions, but we are unable to review all submissions, posts and materials before they are posted to the Website. Therefore, we cannot be held liable for the failure to remove objectionable submissions or posts from the Website. However, the Company may remove user submissions and content for any reason and at its sole discretion without notice to you. Further, the Company may terminate user access to the website for any reason without notice.
Additionally, you understand and agree that the Company may be required to disclose your identity or personally identifiable information due to third-party claims, legal matters or for other purposes in compliance with law enforcement agencies, court orders or appropriate directives. You agree that the Company will not be liable to you in any way for the disclosure of your identity or other information under the foregoing circumstances.
The Company reserves the right to take legal action against any user, person or entity who violates this Agreement.User Content Guidelines.
We care about providing a safe, inclusive space through our Website for users to gather online, share ideas, and consume helpful content.
We will not for any reason tolerate hate speech, sexually explicit materials, copyright infringements, or any number of things listed inside our Content Standards. Please review this list in its entirety before posting or interacting with any users or features on our Website.
User submissions are not allowed to:
Violate any state, federal, or local laws and regulations or promote illegal activities.
Violate any other person or entity's intellectual property or legal rights.
Contain or encourage any obscene, indecent, sexually explicit or violent material and/or acts.
Contain any hateful, discriminatory or other objectionable content.
Embarrass, stalk, harass, or harm another person.
Misrepresent any person's identity or organizational affiliation.
Be used for any promotional or commercial purposes including advertising.The Company's guidelines for user submissions and interactions are intended to promote our community and Website's safety. However, the Company is not liable for any content that is not in compliance with these Terms and guidelines.
If you see content that does follow these Terms, please inform us immediately so we can look into this issue and determine how to move forward. Together, we can keep our Website free of language and materials that are intended to hurt, harm, or infringe on the rights of others. Thank you.
Website Disclaimer. We do not warrant the accuracy, completeness, or usefulness of the information you find on our Website. Any reliance you place on such information is at your own risk.
You understand and agree that the Website and its content is merely informational in nature and does not represent any level of legal, medical, financial, or other professional industry-specific advice. As such, our Company will not be responsible for any damages that result from the use of our Website and its content.
External + Affiliate Links. From time to time, we will link to external websites and sources that are outside of our Company for your convenience only. These links may include, but are not limited to advertisements, affiliate links, 3rd party website links, and sponsored links. In doing so, we recognize that we have no control over the contents of these sites, nor do we have any access to making changes or amendments to them.Geographic Limitations.
The owner of the Website is based in the State of OR in the United States. We provide this Website for use only by persons located in the United States.
No Warranties + No Guarantees.
The Company is providing this Website and all content accessible through it on an "As-Is" basis for individual use by you at your own risk and without any warranties, whether express or implied, including, but not limited to warranties of title; merchantability; fitness for a particular use; or any rights or licenses in this Agreement. We cannot guarantee that the Website and any downloadable content will be free from viruses or other harmful code. The Company makes no warranty as to the accuracy and reliability of information set forth on the Website and its content. To the fullest permissible extent, the Company disclaims liability for any damages you sustain as a result of use or access of the Company's Website, content and any linked 3rd party Websites or content.
You understand and agree that the Company does not guarantee specific results, including financial or other business gains for you personally or for your business. The information included on the Website is provided for informational purposes only and you are responsible for implementing any business practices or suggested actions found on the Website.Limitation of Liability.
The Company is in no way liable to You or any other third party for any and all damages including, but not limited to, punitive or exemplary damages or those resulting from negligence relating to this Agreement or Your use of this Website, regardless of whether the Purchaser was advised of such damages, the foreseeable nature of the damages, and the legal or equitable theory upon which the claim for damages is based. If found to be applicable by a court of competent jurisdiction or by law, the Company's total liability arising out of or related to this Agreement and your use of the Website will be limited to the total amount paid to the Company preceding the event giving rise to the claim.This Limitation of Liability provision does not purport to affect any liability that cannot be excluded or limited under the law.
Indemnification. You agree to defend, indemnify, and hold harmless the Company and its designees in all cases arising out of your use of our Website, web content, services or any information contained therein.Binding Arbitration.
In the event there is a dispute between the Parties that cannot be brought to an amicable mutual understanding, the Parties understand and agree that such dispute will be handled through binding arbitration in alignment with the rules of the American Arbitration Association. The Parties understand that they will be bound by any decision rendered by the arbitrator and/or arbitration proceedings. The arbitration itself will be held in Houston county, GA. If the arbitration is unable to move forward in the designated jurisdiction, the Company will unilaterally elect another venue for the arbitration. The Parties will equally share in the costs and expenses of arbitration and any related proceedings.
Choice of Law. This Agreement and the Parties' relationship are governed by the laws of the State of Georgia. In the event of conflicting laws, the laws of State of Georgia will control.
Severability + No Waiver.
If any provision of these Terms is held to be invalid, illegal, or unenforceable by a court with jurisdiction, all other provisions set forth in this Agreement will remain valid and enforceable. By failing to enforce any right or provision of this Agreement, we are not waiving the right or ability to enforce the same rights or provisions in the future. Any right or provision in this Agreement will only be considered waived if done so in writing by an authorized representative of the Company.
Transfer + Assignment.
You may not transfer or assign any of your rights under this Agreement to any third party without the express written consent of the Company.
Notices. We may provide notice to you by: (i) sending a message to the email address provided by you, or (ii) by posting to the Website. Notices sent by email will be effective at the time of sending and notices posted to the Website will be effective upon posting. You may provide notice to the Company by email to artist@jennifer-meyer.com. Notices provided by email will be effective upon actual receipt of the notice.
All legal notices including those related to intellectual property and copyright infringement claims should be sent by certified mail to the Company's agent.
All requests and other communications relating to the Website should be directed to: artist@jennifer-meyer.com.
Headings for Convenience Only. The headings in these Terms are included for convenience and reference, and are not meant to describe, define, or limit the scope or intent of any provision.Entire Agreement + All Rights Reserved.
In concluding this Agreement, you understand and acknowledge that these Terms constitute the final agreement and supersedes all others regarding the purchase, sale, and use of any Products and the use of the Website. The Company reserves any and all rights not expressly granted in these Terms.Thank you for reading the Terms of Use in its entirety.
We hope you were able to gain clarity on how to effectively use and browse our Website.
Website Privacy Policy
________________________________________________________Last Updated Sept 30 2023.
We are so happy you found your way to our corner of the internet. Thank you for becoming a part of our online community at Jennifer L Meyer ("Company," "we," "us," "our"). As you browse our Website, please know that we respect your privacy and are committed to protecting it through this Privacy Policy ("Policy").This policy lays out how we may collect, store, use, and share any information that we gather from you when you access and use our Website www.jennifer-meyer.com ("Website").Please review this Privacy Policy very carefully. By accessing our website, you are agreeing to this and are expressing that you have been given reasonable access to review this Policy prior to your continued use of our Website. This Agreement is binding as of the date you access our Website.________________________________________________________Privacy Policy Purpose. We want to be open and transparent in communicating how your data and information may be collected. This is the best way to ensure you are informed when browsing our Website or interacting with our Company on other related platforms. This summary will give you a clear understanding of where our privacy policy applies, where it does not apply, and how it is updated over time.Our policy governs any information we may gather:
Through our Website.
Through any chat, user submission, and electronic messaging features on the Website.
Through email or newsletter opt-ins, text, or other marketing features you interact with on the Website.
Through use of our shop.Our policy does not govern any data or information we collect that is gathered offline. The Company has no control over data or information gathered by any third-party websites or partners we may link to, including affiliates.Should you not agree to any provision of our Company's policy you will no longer use, navigate, access or browse our Website. By continuing to use our Website you are agreeing to the practices we lay out in this policy.Age Requirements.
We do not knowingly collect personal information from children under 16 years of age for any reason or in any circumstance. No one under the age of 16 may access, use, create an account, make any purchases, or provide any information through our Website without verified parental consent.
In the event we are made aware that we unknowingly gathered personal information or data from an individual under the age of 16, we will promptly delete any related data. Should you have cause to believe we have gathered such data, please email us at artist@jennifer-meyer.com. Thank you in advance for helping us stay proactive in the data collection process.Collected Information.
As you browse and navigate our Website, some of your personal information will be automatically collected.We want you to understand what types of personal information we collect and how it is typically collected.We hope this clarity eliminates any confusion around our data collection processes so you can have full confidence in browsing our Website and interacting with our Company.Information we collect include the following categories and kinds of personal information:
Contact information including full name, address, email address and phone numbers;
Financial Information including credit and debit card and bank account information;
Geolocation information;
Demographic information including gender, age, employment information;
Internet and website usage data;
Other identifying information such as IP address, social media usernames, passwords and other information used for authentication and access;This information and data is collected when you provide it to us or automatically as you browse our Website. Your information may also be collected from third parties such as our business partners.Sources of Information.
By engaging with our Website, you have an opportunity to provide us with personal information about you through forms, surveys, etc.Before you give us information, it is important to pay attention to what information is required and what is optional. By providing us with your information, you agree that it is correct, personal to you (and no one else whose permission has not been given), and complete.Your information may come from the following sources:
Directly from you - for example, when you create an account, sign up for a newsletter, contact our Company, submit correspondence or inquiries to our Company through the Website or purchase a product.
From third-parties - for example such as data vaults, data shares, and/or social media sites.
Passive data collection processes that use such tools like cookies.
From PayPal when buying items so they will be sent to you.Website users may also post or submit content ("Submissions") on the Website including, but not limited to reviews, comments, testimonials, and discussions.We really appreciate when our customers and Website users give us an opportunity to use their posted submissions and information to promote our products/services, enhance our user's experience, and reach a new audience. We could not effectively reach and serve new audiences without their public support and brand advocacy!However, please keep in mind that your submissions are transmitted to our Website and disseminated to others at your own risk. The Company has no control over how other third-parties and users interact with your submissions. Please remember this before posting your submissions on our Website.Automated Collection Processes.
We use automated data collection technologies — including but not limited to browser cookies, flash cookies, bots and web beacons — to get a better understanding of your online activity and behavior over time and across third-party websites and applications.
This data is used for research purposes, allowing us to uncover the browsing patterns, behavior habits, expedite search inquiries, and characteristics of our users. We can also monitor trends and identify new strategies for improving our Website. This analytic-based information influences our messaging, marketing, user experience, and more — all so we can deliver more value to our users and customers.
For more information on how you can opt-out of certain tracking and internet-based advertising procedures, click here: https://optout.networkadvertising.org/?c=1 .
We may use any of the following technologies for data collection:
Our system automatically issues cookies when you visit our website. A cookie is a small data file that is put on the hard drive of your computer when you visit a website. If you would like to opt-out of tracking cookies you can set your browser to not accept the same. However, if you opt-out of or refuse cookies, certain features of our website may not function properly or be available to you.
Our Website, electronic messaging, and emails may serve files known as web beacons or pixels that allow us, for example, to track users and devices that have accessed our Website or opened our emails. This automated tracking technology allows us to target and personalize marketing messages.Third-Party Tracking Processes. By continuing to browse our Website, you agree to allow cookies and other tracking technologies from third parties unless your browser refuses them.
These cookies may collect personal information or behavior information. This data is frequently used to provide you with targeted internet advertising.
We have no control over the third-party privacy policies or their data collection, use, and sharing practices. For more information about how you can opt-out of receiving targeted advertising from many providers, click here: https://optout.networkadvertising.org/?c=1 .Data Use. If you have ever wondered about how we use your information once it is collected, we want to give you peace of mind by explaining what our process looks like.
No matter if you provide us with your information directly or we automatically collect it, below is how we may use your data:
In enhancing your user experience on our Website in a personalized, individualized way whenever possible.
In shortening your website search inquiries and providing more relevant results.
In completing any purpose for which you specifically give the information.
In communication or contact with you directly.
In advertising to you and our general audience.
In any other manner set out in our Website's Terms of Use and Terms of Purchase (if applicable).
In executing any necessary disclosure under the law or required legal process.
In any additional way we specified at the time of information disclosure.Data Disclosure. We only share your information pursuant to this policy and are dedicated to protecting your privacy.There may be times when automatically collected information or information you directly provided to us may be shared with third parties and in other instances. Please continue reading so you have a full understanding of how we approach the disclosure of your information.Please note, the Company may disclose non-personally identifiable and aggregate information concerning our users at any time without restriction.However, we can disclose personal data to any of the following:
Our affiliates, brand partners, subsidiaries, or other selected partners.
Our service providers, contracted companies or persons (i.e., credit card processing, shipping, analytics companies) as necessary for them to effectuate their services.
Our parties to a corporate transaction involving the company such as a sale of the company or merger and/or acquisition. We aim to be transparent in this process if/when it arises.
As directed by you or to meet the purpose for which you provided the data.Also, we can disclose your personal data in the following circumstances:
When the law or legal process requires it.
In enforcing our Terms of Use and Terms of Purchase (if applicable).
When enforcing or protecting our rights or the rights of third parties.Opting Out.
We only want to communicate with you if you want to hear from us. The same goes for our use of your data - we will only use, disclose, or otherwise share your data with your permission.
Please review the following options for opting out of our data collection, use and communication processes:
You are generally able to disable or refuse to accept cookies on your browser.
If you do not want us to share your data with third parties, you can unselect that box from any data sharing options when that process is presented to you.
If you do not want to receive marketing and advertising emails including other forms of communication from the Company, you can unselect that box from any data sharing options when that process is presented to you. If you have received an email from us with an unsubscribe option, you may also follow the link and unsubscribe from the marketing material through that process.For more information from the Network Advertising Initiative on opting-out of targeted advertisements, click here: https://optout.networkadvertising.org/?c=1 .Nevada Residents Privacy Rights. For Nevada residents who desire to exercise their right to opt-out of the sale of their data, please send the request to artist@jennifer-meyer.comCalifornia Resident Privacy Rights
. If you are a California resident the California Consumer Privacy Act (CCPA) affords consumers more control over how we may collect and use your data. For more information review the CCPA here: https://oag.ca.gov/privacy/ccpa .
California residents have the following rights:
Right to know information collected;
Right to delete information (with exceptions);
Right to opt-out of the sale of their data; and,
Right to non-discrimination for exercising these rights.If you are a California resident and have questions about or wish to exercise one of these rights, please send the request to artist@jennifer-meyer.com.Data Security.
We take data security very seriously. However, with fast-evolving technologies, we cannot guarantee the complete safety and security of your data, but we do put safeguards in place and follow the latest data security strategies.
Please bear in mind that your data security is also your responsibility. You are not allowed to share your password or account information with anyone, especially those you do not know.
Any submission or transmission, whether direct or automated, of your personal data to us is done so at your own risk. The Company is not liable to you for any circumvention of our privacy protections or security systems on our Website.Correcting Your Information.
If your information has changed please update it when placing an order or subscribe to the newsletter with your new address.
Please note the Company has the right to refuse to update or delete your personal data if the Company believes such change would violate any law or legal process or if we have reason to believe the requested change is incorrect.Changes to this Policy.
Changes to our Company's Privacy Policy are necessary as circumstances and the law change over time. When we update our Privacy Policy we will clearly post the Last Updated Date at the top of this page. If any material changes are made and we have your valid email address on file, we will send you an email notifying you of the change.
Your continued use of the Website means you are agreeing that your data and information will be governed by the most recent updated version of our policy.Contact Us.
You have successfully reached the end of our Privacy Policy!
We know there was a lot of information to read through, so we are thankful for your time in reviewing our policies and practices. We hope it answered all of your questions regarding how we collect, use, and disclose your data and information.
If you have any questions, feedback or comments please email us at artist@jennifer-meyer.com.